Just wanted to make a quick post about how things are going with me. If I'm gonna be honest... They're not so great. I've been really stressed and frustrated because of school and how it's affecting my mental health, and my parents don't make things any better by constantly talking about my grades whenever they can. Don't worry about it though, it's just asian parent things.
But things have been pretty good, too! Ever since my megaphone tankman got plastered all over Newgrounds, I've went from 700 followers to a whopping 1.7k. And I thought that would take months to reach, but you all decided to shorten it to 6 days. Really happy about that. It's kind of hard to impress people since I barely make any original art and I just draw the things I like. I've been really, really, really, reaaaaalllllyyyy been wanting to make some more original art, but I guess I'm just shy.
Speaking of art, I made something for Pico Day. I probably won't post it until the day hits, though. But trust me, it'll be cool! It took me a whole month, because I kept redrawing things and also because school. Haha.
Here's a sneak peek: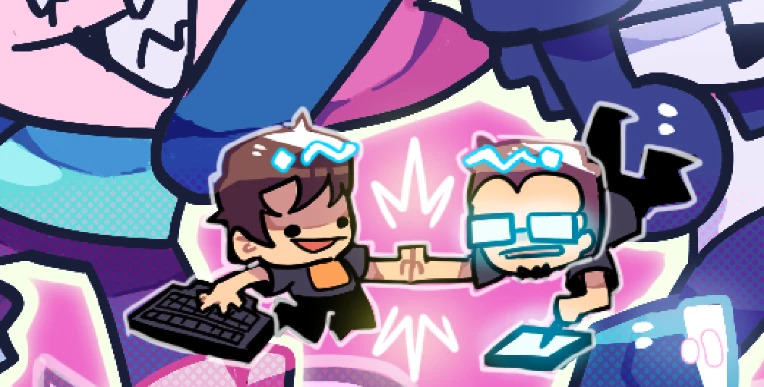 Just a tiny Tom Fulp and a diminished Dan Paladin. I think the Behemoth might just be my favorite Newgrounds thing ever, so why wouldn't I put these two in?
Anyways, that's about it. Again, thank you all for so many followers! I didn't expect so many. People have been saying things like "I became a supporter because of your megaphone tankman" and that honestly makes me happy. I hope you all know that none of that supporter money goes to me. But I genuinely don't care, because this site needs more money than me. This site has been important to me ever since I was a wee little lass, and I want nothing but good things for it. ng for life!!!!!